These are all the past prompts for the Character Development challenge along with their original deadlines. If you'd like to complete one of these prompts passed the deadline, see info above on the Bookwyrm Bookmark.
Instructions
See the Character Development document for more details on requirements for these prompts.
To submit, use the form at the bottom of this page. If you submit to this queue, you must have a Bookwyrm Bookmark in your inventory.
Rewards
Random item drop
60 XP
5 AP
Want to complete an older prompt?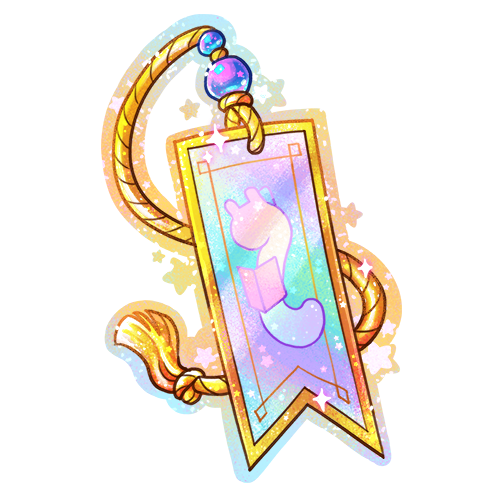 Purchase a Bookwyrm Bookmark with Trokens which will allow you to complete a prompt past the deadline.
Number

Prompt

Original dates

91

What did your character want to be when they grew up? Draw or write about your character's childhood career dreams

Nov 13, 2023 - Nov 26, 2023

90

Show your character doing mundane housework. Everyone needs a cleaning/chore day. How do they feel about doing it? What do they do to make the job go faster?


Nov 6, 2023 - Nov 19, 2023

89

There's something in the shadows... hiding in the closet... lurking under the bed... What would your character's greatest fears look like personified? Can they overcome?


Oct 30, 2023 - Nov 12, 2023

88

If your character is a human, depict them as an anthro or animal and vice versa. Draw or write about your character waking up decidedly unlike themselves.


Oct 23, 2023 - Nov 5, 2023

87

How does your character communicate with others over a long distance? Do they write letters, send texts, write words in the sky, use a crystal ball, just teleport to meet in person...? Draw or write your character using their preferred method of sending messages.

Oct 16, 2023 - Oct 29, 2023


86

Draw or write about your character's actions at a party or formal event. How are they dancing, if at all? Are they drinking or socializing?

Oct 9, 2023 - Oct 22, 2023

85

Show a moment in your character's past that they were incredibly proud of.

Oct 2, 2023 - Oct 15, 2023

84

Man vs Machine -- Is your character made of flesh? Draw or write them as a robot. Made of steel? Draw or write them as an organism.

Sept 26, 2023 - Oct 9, 2023

83

Draw or write about your character encountering their childhood (or equivalent) bully.

Sept 19, 2023 - Oct 2, 2023

82

Draw or write about your character encountering their childhood (or equivalent) best friend.

Sep 11, 2023 - Sep 24, 2023

81

Show your character in an opposite timeline. Are they a fantasy character? Design them in a more futuristic setting and vice versa.

Sep 5, 2023 - Sep 18, 2023

80

What will your character do when they retire from adventuring? Do they settle in their favorite world with their friends? Have they found an isolated world where they've brought trophies and trinkets to inspire the next generation of portal-travelers? Or will nothing stop them from exploring while they live? Draw or write about what your character does when they retire from adventuring in the Paperverse.

Aug 28, 2023 - Sep 10, 2023

79

Draw or write about your character with a Paperverse item. Are they bragging about an achievement? Spending time with a familiar? Perplexed by a scrap item?

Aug 21, 2023 - Sept 3, 2023

78

Draw or write what your character does to recoup when they feel overwhelmed

Aug 14, 2023 - Aug 27, 2023

77

Design an album cover based on your character or write a story about your character being in a band or musical group

Aug 7, 2023 - Aug 20, 2023

76

Draw or write about your character's workout routine. Do they run, lift weights, spar? What do they do to keep in adventurer shape, if anything?

Jul 31, 2023 - Aug 13, 2023

75

Draw or write your character with a flower or plant that would associate with them. Are they as beautiful and delicate as a tulip, or are they strong and mighty like a coastal redwood tree?

Jul 24, 2023 - Aug 6, 2023

74

It's dangerous to go alone! Show your character helping another character on an adventure, whether by giving them a sword before they go exploring on their own, giving them information, patching them up or just going with them.

Please submit on the Open Prompts page.

Jul 17, 2023 - Jul 30, 2023

73

Does your character have layers of undergarments or just a few key pieces? Show us your character in a state of undress

Jul 10, 2023 - Jul 23, 2023

72

Where is your character from? Where were they born, assembled, built, created, or otherwise begin to exist? Draw or write about your character's place of origin, or how they came to be.

Jul 3, 2023 - Jul 16, 2023

71

Write or draw your character in a different style than your own. Feeling adventurous? Imitate someone else's style!

Jun 26, 2023 - Jul 9, 2023

70

Does your character have a role model or someone they aspire to be like? Draw or write them interacting with the person they look up to most.

Jun 19, 2023 - Jul 2, 2023

69

When did your character last cry? Draw or write about this memory or event.

Jun 12, 2023 - Jun 25, 2023

68

Show or write about your character taking care of another character who has an injury or an illness.

Jun 3, 2023 - Jun 16, 2023

67

Draw your character cosplaying as someone else's character or as a character from a movie/series/game or write how and why they would do it.

May 27, 2023 - Jun 13, 2023

66

After an accident or all-night bender, your character wakes up the opposite gender! Science, or magic, or maybe a curse, show how they react, for better, or worse!

If your character is non-binary, your character wakes as a different gender identity of your choosing.

May 20, 2023 - Jun 2, 2023

65

Draw or write about your character as one of the seven deadly sins.

Lust
Gluttony
Greed
Sloth
Wrath
Envy
Pride

May 13, 2023 - May 26, 2023

64

Draw or write about a nightmare your character has had about something they fear. Or, alternatively, draw or write about a happy dream your character has had about something they wish for.

May 6, 2023 - May 19, 2023

63

What is your character's favorite item they like to carry with them? Why? Draw or write about your character with their item.

Please submit on the Open Prompts page.

Apr 29, 2023 - May 12, 2023

62

Gritty Noir - What if your character was in a gritty noir setting? Gangsters? Fedora's? Dramatic shadows from window blinds? Show or write your character in this alternate setting!

Apr 22, 2023 - May 5, 2023

61

Draw or write about your character in another genre. Are they in a western, a thriller, or in a sci-fi setting?

Apr 15, 2023 - Apr 28, 2023

60

Does your character have a catchphrase? Or maybe an unusual curse? Let us know what it is by drawing or writing your character in a situation where they would use it.

Apr 5, 2023 - Apr 18, 2023

59

What is your character's vice? Draw or write about your character resisting or giving in to temptation.

Mar 30, 2023 - Apr 12, 2023

58

How does your character feel about their appearance? Show their reaction to looking in the mirror, or write about how they think of themselves.

Mar 20, 2023 - Apr 2, 2023

57

Draw or write your character as a card. Are they more of a regular card from a playing deck? How about a tarot card? What makes them that card?

Mar 13, 2023 - Mar 26, 2023

56

Your character meets a local ruler. Show how your character reacts-- respectfully, disrespectfully, immediately trying to usurp the ruler's throne, or something else.

Mar 6, 2023 - Mar 19, 2023

55

Not every adventure is a safe one… Show or write about your character diffusing a bomb-- a mechanical one or a magical one.

Mar 1, 2023 - Mar 14, 2023

54

What is your character's biggest fear? Show them encountering it.

Feb 21, 2023 - Mar 6, 2023

53

Draw or write about your character surprising another character with a valentine gift. Is it a card? A teddy bear? Or something else? If you use another person's character, please get permission first.

Feb 13, 2023 - Feb 26, 2023

52

Does your character often use a specific mode of transportation? Draw or write about your character in their car or spaceship, on their unicycle, unicorn, or whatever it is they use to get around.

Feb 6, 2023 - Feb 19, 2023

51

Does your character have traditional dress from their homeland? Draw or write about your character in their traditional cultural fashion.

Jan 30, 2023 - Feb 12, 2023

50

Does your character have a base of operations between portals? A home, even? Draw or write about where your character hangs out during the downtime.

Please submit on the Open Prompts page.

Jan 23, 2023 - Feb 5, 2023

49

Does your character have a job besides adventuring? An old occupation they set down to go off on their journey? A career they wish they could have? Show your character at their job-- past, present, future, or dream.

Jan 16, 2023 - Jan 29, 2023

48

Draw or write about your character camping outdoors, extreme or recreational. Are they toasting s'mores, singing campfire songs? Or are they on the other end, setting the tent and foraging for wood?

Jan 9, 2023 - Jan 22, 2023

47

Whether it is their morning cup of coffee, their afternoon tea, some freshly warmed motor oil, or a discreet mug of the red stuff, show your character cozied up and enjoying a warm beverage.

Jan 5, 2023 - Jan 18, 2023

46

Draw or write about your character in an ugly sweater.

Dec 26, 2022 - Jan 8, 2023

45

Draw or write about your character receiving (or not receiving) a gift. Does your character like getting gifts? Do they dislike it? Do they not have anyone in their life who would give them a gift?

Dec 19, 2022 - Jan 1, 2023

44

Draw or write about your character with those they love most. Is it family? Friends? A partner? The dog they rescued from a dumpster?

Dec 12, 2022 - Dec 25, 2022

43

Draw or write about your character finding a person or creature lost in the forbidding snows of winter. Does your character help them? Do they just pass by? Do they steal their boots?

Dec 5, 2022 - Dec 18, 2022

42

Draw or write about your character's decorating traditions for the holidays. Do they have special items they set out? Do they string up lights? Do they go around the neighborhood vandalizing holiday displays?

Nov 30, 2022 - Dec 13, 2022

41

Your character got wrangled into going to a party. Show what your character would spend the whole time doing. Dancing? Socializing? Hiding in a corner?

Nov 21, 2022 - Dec 4, 2022

40

What's the worst thing someone could make your character wear? A terrible hat? A color that really doesn't work for them? Draw or write about your character in a situation where they're wearing something they really hate.

Nov 14, 2022 - Nov 27, 2022

39

Draw or write about scars your character has, whether physical or emotional. How did they get them? Where are they? If they don't have scars what was their most dangerous injury?

Nov 7, 2022 - Nov 20, 2022

38

Show your character and their family. Are they posing for a picture or spending time together? Are they family by blood or by choice? How does your character feel about their family?

Oct 31, 2022 - Nov 13, 2022

37

Draw or write about your character celebrating Halloween. Are they dressing up? Attending a costume party? Or eating lots of candy? Or some other situation where they have to be dressed up in a fun or funny costume.

Oct 24, 2022 - Nov 6, 2022

36

Show or write about your character's reaction to seeing a ghost.

Oct 17, 2022 - Oct 30, 2022

35

Show or write about your OC as an evil version of themselves. What would they look like if they took a darker path? If your character is evil show what they would have looked like if they took a brighter path and became a hero.

Oct 10, 2022 - Oct 23, 2022

34

Does your character have a significant other? If not, who would they bat their eyelashes at across the room in the adventurer's guild? Draw or write about your character with someone they're crushing on or their significant other.

Oct 3, 2022 - Oct 16, 2022

33

What is your character's room like? Neat? Messy? Do they make their bed every morning? Do they HAVE a room? Show your character in their private space/where they sleep. Or write about your character and their room.

Sept 19, 2022 - Oct 2, 2022

32

What is your characters morning routine? Show or write about your character doing something that is a part of their morning routine.

Sept 5, 2022 - Sept 18, 2022

31

Crossing a thousand universes sometimes brings you face to face with things you'd never expect. Your character has met an alternate version of themselves! Show them with their alternate and how they would react.

Aug 22, 2022 - Sept 4, 2022

30

Show your character helping a younger character pick out their talisman. The other character does not have to be registered in the game. If you use someone else's OC, please get permission first.

Aug 8, 2022 - August 21, 2022

29

What was the most embarrassing moment of your character's life? Show them doing something foolish.

July 25, 2022 - August 7, 2022

28

If your character was an animal or non-humanoid fantasy creature, what would they be? Draw your character with their creature self, or write about them transforming or finding themselves in a universe where they are not what they were.

July 11, 2022 - July 24, 2022

27

If your character had a chance to go back in time and tell their younger self one thing, what would they say? Show or write about your character telling that thing to their younger self.

June 27, 2022 - July 10, 2022

26

Show your character in beachwear or write about them going on a beach vacation or mission.

June 13, 2022 - June 26, 2022

25

Show a moment in your character's past that they *really* regret.

May 30, 2022 - June 12, 2022

24

Does your character have an archenemy? A childhood rival? Show your character facing off with them.

May 16, 2022 - May 29, 2022

23

How does your character show other people that they love them? Gifts? Hugs? Scathing insults? Show your character being affectionate (platonically or romantically) to another character.

May 2, 2022 - May 15, 2022

22

Show your character with a completely different hair style or color than the one they usually sport or write about a situation in which your character has to or chooses to dramatically change their hair and how they feel about it. If your character doesn't have hair, use their equivalent. Fur, paint job, aura, etc.

April 18, 2022 - May 1, 2022

21

Your character has to turn to research for an answer-- maybe they have a big school exam coming up, or maybe they stepped on an unidentifiable plant, and now their foot is starting to turn a weird color. Draw or write about them studying for something important!

April 4, 2022 - April 17, 2022

20

Depict your character as either a more mature version of themselves if they're a child, or a child version of themselves if they're an adult. If your character wouldn't have a child-like form, you can do them as elderly instead.

March 21, 2022 - April 3, 2022

19

Show your character teaching or helping another character deal with their emerging latent element. The other character does NOT have to be registered in the game. It can also be a made up character just for this challenge. If you use someone else's character, please get permission from the owner.

Please submit on the Open Prompts page.

March 7, 2022 - March 20, 2022

18

Show your character dressed in a fancy outfit.

February 21, 2022 - March 6, 2022

17

Show your character flirting or expressing affection for another OC. If you use another person's OC, please get their permission first!

February 7, 2022 - February 20, 2022

16

Show your character encountering a piece of technology that is nothing like anything they've seen before.

January 24, 2022 - February 6, 2022

15

Show your character cuddling a plushy or other comfort or security item such as a security blanket.

January 10, 2022 - January 23, 2022

14

Show your character dressed in pajamas or whatever they sleep in.

December 27, 2021 - January 9, 2022

13

It's the holiday season in the world of the Paperverse. Show your character celebrating the seasons either alone or with another OC. Are they wearing a festive outfit? Or enjoying a traditional holiday dish? Or maybe drinking some hot cocoa? Or stringing up some lights to decorate their home?

December 13, 2021 - December 26, 2021

12

Does your character like music? Show them singing, playing an instrument, or reacting to someone else doing one of those activities.

November 29, 2021 - December 12, 2021

11

Show your character down and out with an injury or illness.

November 15, 2021 - November 28, 2021

10

Someone just stumbled into your character and dumped a drink on them. Show how your character reacts.

November 1, 2021 - November 14, 2021

9

Does your character have a favorite outfit? Show them strutting their stuff!

October 18, 2021 - October 31, 2021

8

Does your character have a pet? Show them meeting or spending time with their animal (or alien, or robot, etc) companion.

October 4, 2021 - October 17, 2021

7

Your character has come across a few abandoned gold coins… is this a fortune to them or a pittance? Show your character's reaction to finding a month's worth of rent on the ground.

September 20, 2021 - October 3, 2021

6

Show your character with their favorite weapon, or show what the first thing they'd pick up to fight with would be if they were in a pinch.

September 6, 2021 - September 19, 2021

5

What is your character's favorite color, or a color you associate with them? Draw them using shades of that color only.

August 23, 2021 - Sept 5, 2021

4

What is your character's favorite food? Show them eating it or making it-- or maybe dropping it on the ground by mistake!

August 9, 2021 - August 22, 2021

3

Does your character have any terrible habits? Show one of them.

July 26, 2021 - August 8, 2021

2

Does your character collect anything? Show them with their hoard.

July 12, 2021 - July 25, 2021

1

It's the start of summer, and the start of a little extra time off for some denizens of the Paperverse. Does your character have any hobbies outside of their adventuring that they might spend their vacation on? Show your character stacking rocks, weaving, skydiving, or whatever their hobby is.

June 28, 2021 - July 24, 2021