Greetings PaperDemons!
Elemensha Quest is Closing
We've decided to close the Elemensha Quest. It will remain open through October 15, 2023 so if you have started this quest, please make sure to complete it and submit your entries before then.
We will likely re-open it again in the future during periods of high activity or to fill an empty slot in our schedule. We're planning to only reopen this quest once per year.
Why we're making this change
Our game offers many ways for you to customize your character without having to make an in-game purchase. But some mechanics are random to allow us ways to monetize customizations and keep the lights on. Over the years we had some feedback from new users that they didn't like having to make a purchase so early in the game, especially for the elemental power, which people consider as part of the design of their character.
We introduced the Elemensha Quest as a way for players to customize their element without having to make a purchase. However, we had concerns that this Quest may have been hurting our monetization opportunities as there is no limit to how much you can complete the quest. It was also something that new players couldn't easily find so may not have been solving the original problem well that it was intended to solve.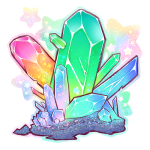 Earlier this summer we introduced the Starter Kit which gives all new players 1 free Elemensha. This way players aren't confronted with a pay wall early in the game, but if they get more invested in the game, they can consider financially supporting us by buying an Elemensha for their second character.
Reopening the quest on occasion will also allow us to hype it up and build more community around it.
How to customize your character's Element
If you haven't yet received a Starter Kit, just register a new character and you'll receive a starter kit with an Elemensha upon approval of your character sheet. If you've already used your free Elemensha and want to change your character's element, you can purchase one from the shop.
If you have questions or feedback about this change, please ask in the discord server. Thank you!
~BogusRed and PaperDemon Admin staff