In Portal Challenges, you will be introduced to a brand new world for your character to travel to. Portal Challenges are a little more difficult than other challenges, but they offer exclusive items.
About Portal Badges
As your OC journeys to different portals, they'll earn a triangular patch or badge similar to this one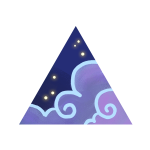 More info on Portals
Mature content is allowed for portal submissions as long as it's labeled mature.

You may complete a portal more than once for the same character, either doing a different prompt or the same prompt, as long as you're creating a new artwork/writing submission each time.

You may include other characters in your submissions and get extra rewards. See Who gets the reward? for more information
Available Portals
Some portals are Stable, meaning they are always open.
Others are Unstable and carry deadlines which can be bypassed with a Junket Tank.
See the bottom of this page for a full list of Portals and their deadlines.
When do new portals open?
New portals are introduced every season. To get notified, please join the mailing list or Discord server.