Your OC (Original Character) is about to begin their journey to explore new worlds. Before they start off, they'll be equipping themselves with an item that carries special meaning for them. In this challenge, you'll be choosing your character's special item and drawing a picture of it.
As your OC journeys to different portals, they'll earn a triangular badge similar to this one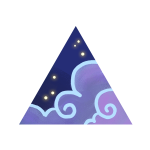 Your character's talisman can be something that is sentimental, magical, or in some way meaningful to your character. It's not required, but many adventurers who journey to these different worlds keep their Portal badges on their talisman as a way to showcase all of the places they've journeyed to.
Rewards
For participating in this challenge...
you'll earn 50 XP
your character earns 7 AP (See below)
About AP (Ability points)
As your character completes challenges and quests, they'll accrue AP which can be used for gaining new abilities in battle. You'll learn more about abilities in a later challenge.
About Talisman Abilities
Every character's talisman has a special ability. To see what your character's ability is, view your character's sheet. Your character's ability is assigned at random.
Challenge instructions
If you haven't done so, make sure you complete the Character Creation challenge. This is required before proceeding.

Decide on an item for your character to use as their talisman. You can use one of the ideas below or come up with your own.

Limit one talisman per character.

Complete either an art entry or a writing entry (not both). See below.

Submit your work at the bottom of this page. An admin from our team will process your request. You'll receive a private message when the process is complete.
Art Entry
Draw a picture of the talisman
The primary focus of the image should be the talisman.

Including your character is optional. Just ensure the talisman is still the main focal point of the image.

A background is optional. Just ensure the talisman is still the main focal point of the image.

If your talisman will include badges, indicate one of them. If your character hasn't visited any portals yet, just add one blank white badge. You can fill it in later when you get your first portal badge.

Include in the artwork description

a very brief description of what the item is

why your character is taking it with them
Writing entry
Write a short story about the talisman that is at least 600 words. The story should answer the following questions:
What does the item look like?

How did they get this item?

What meaning or purpose does it have to them?

Why did they decide to take it with them?
Ideas and Prompts
Here are a few ideas to help jumpstart the creative process. If none of these prompts appeal to you, feel free to make your own!
A necklace or bracelet gifted to them from a loved one. Each portal is represented as a triangular charm.

A journal where they record all their thoughts, feelings, and tales of adventure. Each page contains a drawing of the portal badge along with a journal entry.

A spell book gifted to them from a mentor.

A scarf purchased at a market place with each portal represented as a badge

A backpack gifted from a loved one with portal badges.

A cloak or cape with the badges displayed on the back.

A bandolier with the badges stitched across it
More notes
All of our canonical imagery for the badges will be presented as triangles. But the shape of your character's portal badges don't have to be triangular. You can draw your badges as squares, circles, or other shapes.
Happy drawing!
Edits:
10/27/2020 - we added an AP award along with instructions for claiming reward

4/9/2021 - Specified that including your character is optional. Removed mention of City of Lost Songs since this wont be relevant to newer players.

12/2/2021 - slight tweaks to intro

5/11/2023 - simplify submission info. add info about talisman abilities.